Gateball was invented in Japan by Suzuki Kazunobu in 1947.
At the time there was a severe shortage of rubber needed to make the balls used in many sports. Suzuki, then working in the lumber industry on the northern island of Hokkaido, realised there was a ready supply of the wood used to make croquet balls and mallets. He revised the rules of croquet and created gateball as a game for young people.
Gateball first became popular in the late 1950s when a physical education instructor introduced gateball to the women's societies and senior citizens' clubs of Kumamoto City. In 1962, the Kumamoto Gateball Association was formed and established a local set of rules. This version of the game became known nationally when it was demonstrated at a national fitness meeting in Kumamoto in 1976. Shortly afterwards the gateball's popularity exploded as local government officials and representatives of senior citizens' organisations introduced the sport around the country.
In 1984, the Japanese Gateball Union (JGU) was founded. Under the leadership of its inaugural chairman, Ryoichi Sasakawa, the JGU developed a unified set of rules and organised the first national meeting. The following year, the JGU joined with five countries and regions, China, Korea, Brazil, United States of America and Chinese Taipei, to form the World Gateball Union (WGU). The WGU has since been joined by Bolivia (1987), Paraguay (1987), Peru (1987), Argentina (1989), Canada (1989), Singapore (1994), Hong Kong (1998), Australia (2003) and Macao (2005).
Today more than 10 centenarians play gateball in Japan.
Why introducing gateball in Belgium and Europe?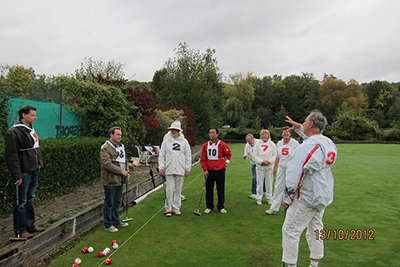 Croquet was an Olympic sport at the beginning of the twentieth century - indeed the first that allowed woman and men to compete together. Gateball is a similar mallet sport and is played globally by many more people than play croquet.
Croquet and gateball (a game derived from croquet) are sports of skill where social spirit, team spirit and good tactics are important. The two sports are within reach of everyone and take place between men and women.
These are two sports for everyone. You can play from 15 years to 95 years. Gateball can already be played even by 10 years-olds.

Croquet is played in singles are doubles (2 players against 2 players). A priori playing time is unlimited and only ends when the game comes to an end. To better allocate the time of players, there are several possible rules which limit the game time.
Croquet requires a lawn of 33m on 26m (including surround), flat and similar in quality to a golf green. This is a point which makes it difficult to develop croquet in Belgium.



To familiarize everyone with the game involving mallets, balls and hoops, we have the opportunity to promote Gateball, a sport widely practiced in Asia, USA and gradually in Australia and some European countries.
Gateball is normally played in teams of five players against five players (the number can be reduced), with or without a coach.

Whereas croquet requires large and very high quality lawns, Gateball requires a smaller area (20m by 15m) and can easily be played on synthetic turf or the equivalent of petanque. More players occupy the surface than with croquet, and a game is limited to 30 minutes. There are tools that every player wears a scoringkit and the team captain has a stopwatch.
How about a new sport in Belgium? The idea came to us to organize a great World Tournament where many Belgian teams could participate. We will explain to the Belgians before the tournament starts, how to play. On the Friday, before the real tournament, the Belgian teams would face off and the best would be selected to reach the final table and face such countries as Japan, China, and other countries more advanced in this sport.
The game could be introduced into sports clubs who own lawns that are not always used. Seniors could easily play during weekdays and thus become active again: the most talented schools might explain the operation of this game
Different cultures, different generations could compete against each other and everyone would learn again what is team spirit.
Gateball could be introduced in schools. Why?
This sport can put several cultures in contact with each other, who do not speak the same language, and reinstate the family spirit of the team by 3 generations (parent, child and grandparent). Team spirit and quick decision making; are key strengths for business leaders and policy makers: Gateball provides hands-on practice in making the right decision in a short time, without going to over-long meetings.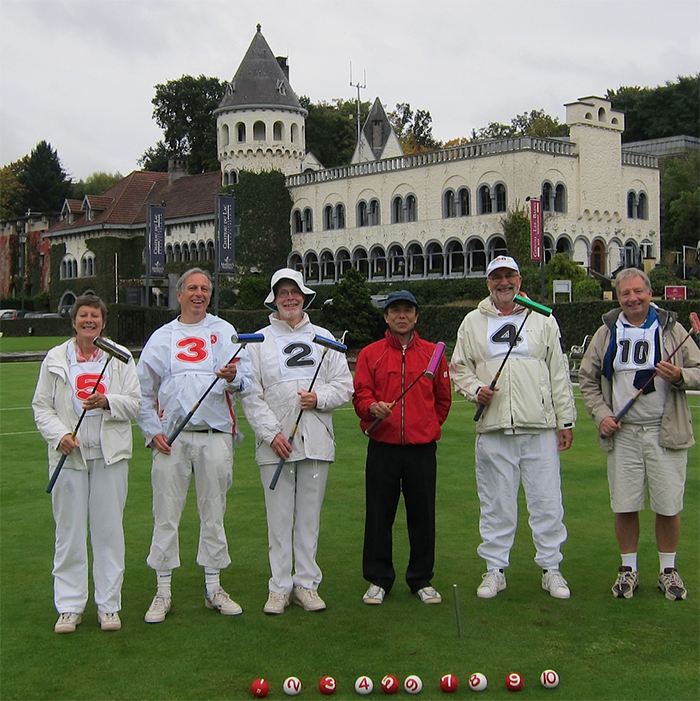 Why a world tournament locally? To publicize the sport and to see as soon as possible if there is interest in Belgium and the rest of Europe.